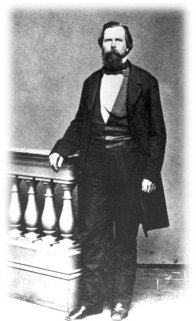 John Bidwell was born in Chautauqua County, New York on 5 August 1819. His family moved to Erie, Pennsylvania in 1829 and to Ashtabula County, Ohio in 1831. He attended country schools and the Kingsville Academy in Ashtabula.
Bidwell moved to the Sacramento Valley of California late in 1841, after teaching school in Ohio and Missouri. He worked as a ranch hand and a miner. Bidwell attained the rank of Major while participating in the war with Mexico. He served in the California state senate in 1849, supervised the census of California in 1850 and again in 1860, was a delegate to the 1860 national convention of the Democratic party, was appointed brigadier general of the California Militia in 1863, was a delegate to the national convention of the Republican party in 1864, and was a Republican member of Congress 1865-1867.
Afterward, Bidwell turned to farming. He ran for Governor of California in 1875 on the Anti-Monopoly ticket, presided over the Prohibition Party state convention in 1888 and was the Prohibition candidate for governor in 1880.
The Bidwell/Cranfill ticket received 271,058 votes in 1882, or 2.3% nationwide. That was the largest total vote and highest percentage of the vote received by any Prohibition Party national ticket.
John Bidwell died at Chico, California on 4 April 1900 and is buried in Chico Cemetery.
(data from Biographical Directory of the United States Congress)
see also:
Hunt, RD (1942)—John Bidwell; Prince of California Pioneers: Caldwell (Idaho), Caxton Printers.

Royce, CC (1906)—John Bidwell; Pioneer Statesman, Philanthropist: A Biographical Sketch: (published at Chico).
Bidwell's home at Chico, California is now the Bidwell Mansion State Historic Park, under the management of the California Department of Parks and Recreation. It is adjacent to Chico State University.
Mrs. Bidwell's will left the house to the College Board of the Presbyterian Church of the United States of America. The Church was unable to establish a college, however, and the property was passed to (then) Chico State Teachers College. It was transferred to the Department of Parks & Recreation in 1964.
Historic Bidwell Mansion stands today as a memorial to the Bidwells and celebrates, through their memory, those qualities of the human mind and spirit -- enlightenment, generosity, concern for the well-being of humanity -- that gave beauty, meaning, and purpose to their lives.
The Bidwell Mansion Association was organized in 1960 to preserve and present the house and grounds. For more information, write: Bidwell Mansion Association, 525 Esplanade, Chico, California 95926; telephone 530-895-6144; visit now2000.co/chico/attractions.shtml or norcal.parks.state.ca.us.
Gammon (2007, pp. 45-46) provides some additional background on Bidwell:
Bidwell went to California with the first overland expedition.
During the Civil War, Bidwell was appointed a Brigadier General in the California Militia, but he did not see combat.
Bidwell's politics were unsettled: He was a delegate to the Democratic National Convention in 1860. In 1864, he was a delegate to the Republican National Convention.
He afterward served one term in Congress as a Republican, but did not seek re-election. Instead, he concentrated on farming.
Finding the lure of politics irresistible, Bidwell ran for governor of California on the Anti-Monopoly ticket in 1875. He then switched to the Prohibition Party and presided over our 1888 California state convention. He was our candidate for governor in 1890.
[BACK]