Clinton Bowen Fisk was born in Griggsville, New York on 8 December 1828; he died on 9 July 1890, in New York City.
Fisk worked, generally, in the financial industry. He was a banker in Michigan, an insurance agent in Missouri, and Treasurer of the Missouri Pacific Railway and of the Atlantic and Pacific Railway. He was among the founders of the City of Harriman, Tennessee – a utopian settlement where beverage alcohol was forbidden – and of its American Temperance University.
Clinton B. Fisk was also the founder of eponymous Fisk University, which began in 1866 as a school for liberated slaves.
He served as Assistant Commissioner of the (federal) Bureau of Refugees, Freedmen, and Abandoned lands for the states of Kentucky and Tennessee, and he served on the Board of Indian Commissioners. He was on the boards of trustees of Drew Theological Seminary, of Dickinson College, and of Albion College
Fisk enlisted in the Union Army, rising eventually to the rank of Major General.
Clinton B. Fisk was dedicated to the Cause of Prohibition for his entire life. He left the Republican Party in 1884, because it did not support temperance strongly enough to suit him. He ran on the Prohibition Ticket in 1886 for governor of New Jersey, in addition to being our presidential candidate in 1888.
-- Gammon (2007), pp. 41-42
---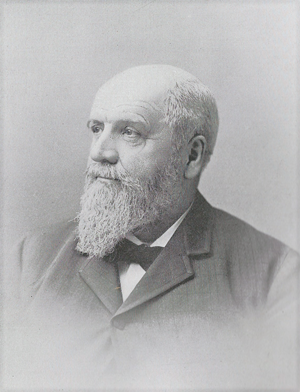 Clinton Bowen Fish, the fifth candidate of the Prohibition Party for President of the United States, was born in Griggsville, Livingston County, New York, on 8 December1828 and died in New York City on 9 July 1890. His father, a blacksmith, removed to Michigan in 1830, and soon young Clinton, at the age of nine, was bound to a farmer, to serve until he was 21. After a few years of service, however, his release was procured and he began a long course of hard study by himself, mastering considerable Latin unaided. For several years he taught school at Albion, Michigan. He began business life with L.D. Crippen, the leading merchant and banker of Coldwater, Michigan, and, in 1850, was married to Mr. Crippen's daughter. In the financial crisis of 1857 he lost most of his property, because of his determination that his bank should pay dollar for dollar instead of suspending. In 1858 he removed to St. Louis and became interested in the fire-insurance business. At the outbreak of the Civil War, he enlisted as a private, but advanced rapidly, until, at the close of the War, he had been made major-general by brevet "for faithful and meritorious services." The Fisk University for colored youth was founded at Nashville, Tennessee, largely through his instrumentality,
After his resignation from the army, in the fall of 1866, he was engaged until his death in railroad management and the banking business. For eight years he was treasurer of the Missouri and Pacific Railroad Company.
General Fisk was a Republican up to 1884. In that year, he joined the Prohibition Party. In 1886, he was the Prohibition candidate for governor of New Jersey. During the campaign, he traveled over 5000 miles and received 19,80 votes, by far the largest Prohibition vote ever polled in New Jersey before or since (1894). In 1888, he was nominated for President of the United States by the Prohibition convention at Indianapolis, receiving in the election that followed 249,945 votes.
Gen. Fisk's benevolences and activities in religious, educational, and charitable interests were widely known. In his youth, he was a devoted Abolitionist. He was appointed by President Grant a member of the Board of Indian Commissioners; at the time of his death he was president of that body. He was prominent as a Methodist layman, having been a delegate to the general conference of 1874 and also delegate to the Ecumenical Council in London in 1881. He was also at one time president of the East Tennessee Land Company which founded the Prohibition town of Harriman.
— Data from An Album of Representative Prohibitionists (1895)
---
Clinton Bowen Fisk was born on December 8th, 1828, in the hamlet of Griggsville, in Livingston County, New York. He was the fifth son of blacksmith Benjamin Bigford Fisk and Lydia Aldrich Fisk.
In 1830, the family moved to Lenawee County, Michigan. His father died of typhoid fever in 1832, and the family was plunged into poverty. His brothers and himself each had to start working at a young age. He was initially bound to work for a farmer until the age of 21. But after a few years of work, his release was procured. He spent the next ten years in hard work and study. At 13, his mother remarried, and he was sent to study the Wesleyan Seminary in Albion, Michigan in 1843. He had intended to go on to attend college, but the development of eye problems forced him to abandon the prospects of further education.
Clinton Fisk turned toward pursuing a career in business in Coldwater, Michigan. His main areas of business were in the merchant, milling, and banking industries. He began working for L.D. Crippen, a leading merchant and banker in Coldwater. In 1850, he married Crippen's daughter, Jeannette Crippen. Clinton Fisk would establish himself as a banker in Coldwater. But he ended up losing his bank and most of his property in the Financial Crises of 1857. In 1858, he moved to St. Louis, Missouri and became a financial agent of the Etna Insurance Company. He worked for Etna up to the start of the Civil War.
Fisk was an abolitionist and supporter of the Union. He served in the Home Guards and helped seize Camp Jackson in May of 1861. When the St. Louis Merchants Exchange seemed likely to influence Missouri in favor of the Confederacy, Fisk established the Rival Union Merchants Exchange, which soon overtook and absorbed the old exchange. In July, 1862, he started working to recruit a regiment for the Union army. In September, he became Colonel of the 33rd Missouri Volunteer Infantry. He then organized a brigade and was appointed Brigadier General on November 24th.
He spent most of the war commanding troops in Missouri and Arkansas, protecting Missouri from Confederate raids. Notable actions of his command included taking part in Grant's campaign to take Vicksburg and repelling an attack on Jefferson City. By the end of the war, Fisk had reached the rank of Major General. In 1866, he joined the Freedman's Bureau as assistant commissioner of the Bureau of Refuges, Freedmen and Abandoned Lands for Kentucky and Tennessee. In his position, he did what he could to help protect the safety of the newly freed African American population, to improve their economic and educational condition, and to promote peaceful relations between the White and Black residents of his jurisdiction. He worked with the American Missionary Association to establish some of the first free public schools in the South for both African American and White children. He helped the American Missionary Association to procure an abandoned army barracks in Nashville, Tennessee, for the creation of a college to educate former slaves in the area, and also endowed it with $30,000 of his own money. The school developed into Fisk University. The University continues to operate in present day.
After leaving the army, Fisk became involved the various forms of business, including the railroad industry, banking, mining, and land speculation. Fisk was vice-president and treasurer of the Missouri Pacific and the Atlantic and Pacific Railway companies, from 1866-1876. He returned to New York State and returned to banking. He also served as president of the New York Accident Insurance Company. In addition, Fisk served on the boards of various colleges and non-profit organizations. He served on the boards of Drew Theological Seminary, Dickenson College, Carlisle College, The University of Pennsylvania, Albion College, the University of Michigan, and Fisk. H also served s vice-president of the Evangelical Alliance, a trustee of the American Missionary Association, and a manger of the Missionary Society of the Methodist Episcopal Church. In 1873, President Ulysses Grant appointed Fisk to the board of Indian Commissioners; he was president of the board from 1881-1890. Clinton Fisk was a strong supporter of temperance and prohibition. He gave various speeches and campaigned for the enactment of local prohibition laws and statewide prohibition amendments. For much of life he had been a member of the Republican Party. But the Republican Party's weakness on the prohibition issue led Fisk to leave the Republicans and Jon the Prohibition Party in 1884. He campaigned for Prohibition Party Presidential candidate John St. John. Fisk quickly rose in prominence within the Prohibition Party. In 1886, he was the Prohibition Party candidate for Governor of New Jersey. He received 19,808 votes (8.55%); the largest vote result of any Prohibition Party candidate for Governor in the state. In 1867, he was involved in a campaign to pass a state prohibition amendment in Michigan; which unfortunately as unsuccessful. In 1888, Clinton Fisk was nominated as the Prohibition Party candidate for President. Due to health problems Fisk wasn't able to do much in person campaigning, but his campaign excited many people throughout the country and Prohibition Party members campaigned hard. He received 249,819 (2.20%) votes. This was nearly double the number of votes received St. John in the 1884 election, the largest vote total for a Prohibition Party presidential candidate at the time, and the fourth largest vote total of any Prohibition Party presidential candidate, so far, in our nation's history.
In 1889, Fisk was one of the key financial supporters of the establishment of the town of Harriman, Tennessee. The town was a utopian temperance community. In the fall of 1889, Fisk became sick from heart disease, and later contracted influenza, and was confined to his home at 175 W. 58th Street, New York City. He died on July 9th, 1890 and was buried in Oak Grove Cemetery in Coldwater, Michigan. In his life he had risen from humble circumstances, to gain success, and became a champion for advancing freedom, national unity, and improving the condition of people's lives.
Sources:
For a more thorough account of Clinton Fisk, there is the book, The Life of Clinton Bowen Fisk, by Alphonso A. Hopkins. An electronic version of the book is available for free on Google Books. https://play.google.com/store/books/details?id=g2jlAAAAMAAJ&rdid=book-g2jlAAAAMAAJ&rdot=1:
"A Guide to the Geoffrey Cooke Collection of the Clinton B. Fisk Family, 1832-1941." Fisk.edu. February 2006. Accessed July 25, 2018. https://www.fisk.edu/assets/files/ba/cookegeoffreycollectiononclintonb.fiskfamily1832-1941.pdf.
"Clinton B. Fisk." Wikipedia. July 24, 2018. Accessed July 26, 2018. https://en.wikipedia.org/wiki/Clinton_B._Fisk.
"Clinton Bowen Fisk (1828-1890)." Archives & Special Collections | Dickinson College. Accessed July 26, 2018. http://archives.dickinson.edu/people/clinton-bowen-fisk-1828-1890.
"Clinton Fisk Biography." Prohbitionists.org. Accessed July 26, 2018. http://www.prohibitionists.org/history/votes/Clinton_Fisk_bio.html.
"Clinton Fisk, Freedman Bureau Pioneer." African American Registry. Accessed July 26, 2018. https://aaregistry.org/story/clinton-fisk-freedman-bureau-pioneer/. "Harriman, Tennessee." Wikipedia. July 25, 2018. Accessed July 26, 2018. https://en.wikipedia.org/wiki/Harriman,_Tennessee.
Hopkins, Alphonso A. The Life of Clinton Bowen Fisk. New York: Funk and Wagnalls, 1890.
"Our Campaigns - Candidate - Clinton Bowen Fisk." Our Campaigns. Accessed July 26, 2018. https://www.ourcampaigns.com/CandidateDetail.html?CandidateID=4083. Spooner, Walter W. The Cyclopaedia of Temperance and Prohibition. a Reference Book of Facts, Statistics, and General Information on All Aspects of the Drink Question, the Temperance Movement, and Prohibition Agitation. New York: Funk and Wagnalls, 1891.
-- Contributed by Jonathan Makeley, photo from Wikipedia