Warren C. Martin of Junction City, KS, who was the Prohibition Party vice-presidential candidate in 1984, died on August 5, 1998. He was 88 years old. Martin was a lifelong Prohibitionist and ran for various state offices in the 1950's and 1970's. He and Harry O. Lytle were appointed minority party members of the Kansas State Parole Board in 1959 by Democratic governor George Docking, as a deliberate snub to the Republicans.
Martin also was a variety store manager for the Scott chain, a rancher, and a parole officer.
Warren Martin was born on October 13, 1909 to Lyman and Merle Haney Martin of Ogden, Kansas. He married Georgia Proctor on July 27, 1936; Mrs. Martin died on January 28, 1990. The couple had three children: W. Kenneth Martin of Greeley, CO (from whose information this obituary has been prepared), Marilyn J. Dixon of Danville, IL, and Sharon R. Scoggin of Eaton, CO. Mrs. Scoggin has been an active Prohibitionist also.
Martin was a member of the Free Methodist Church and of the Gideons International; he was active with the Wycliffe Bible translators Association.
Memorials have been established at the Milford (KS) Congregational Church and at the Gideons International. Burial was in Milford Cemetery.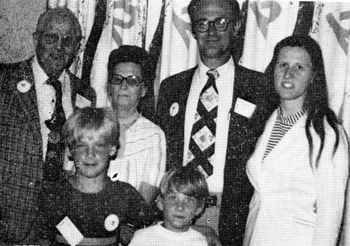 Left to right: Warren Martin, Ryan Scoggin, Gloria Martin, Jason Scoggin,
David Scoggin, Sharon Martin Scoggin.
[BACK]