Julius Averill was born in May 1857, in Belmont New York. He was the son of Julius C. Averill (1805-1873) Sr. and Mary Richardson Averill (1825-1902). He was one of 10 kids. He grew up in the village of Belmont and was educated at the Belmont Union School. He spent some time working as a wood mechanic in his early 20's, before entering into a career as a businessman.
In the early 1880's, Julius Averill began a career as a dry goods merchant. U.S. dry goods merchants and stores specialized in selling textiles, clothing, cloth-based household items, and related items. In the early 1880's, Averill partnered with M.H. Yale and ran the dry goods store Yale and Averill, in Belmont. He remained in businesses with Yale up to 1885.
In 1885, Averill had moved to Angelica, New York. Julius Averill married his wife Capitola (Lilly) Averill by 1883. They had six children: Clarence J. (1883-1956), Dora Frances (1889-1962), Ruth L. (1889-d.), Esther L. (1894-d.), Inez M. (1897-d.), Irene L. (1897-d.).
By 1888, Averill was running his own dry goods store in Angelica and continued to do so throughout the following decade. The store was located on the corner of West Main and Olean Streets. It carried a variety of products, including textiles, clothes, hats, shoes, teacher's uniforms, and various household products. The store was locally successful and marketed itself to customers throughout Allegany County. Throughout the 1880's and 1890's, Averill made a number of expansions to the store and to its selection of products. Averill weathered some hardships, such as getting robbed in 1889 and having his store damaged by a fire in 1893; but he managed to keep the store going.
In 1896, Averill established a new partnership with Levi Bronson and the store was renamed Averill and Bronson.
Julius Averill was an involved member of his community and the local Baptist Church. He served as the president of the Allegany County Baptist School Association in 1889, 1890, and 1892, and was its treasurer in 1893. In 1890, he helped form a town Sunday School association in Angelica and served as its first vice-president.
In 1890, he served as secretary of the Angelica branch of the Royal Templars (a fraternal temperance organization which admitted both men and women as equal members, and whose work including promoting temperance, engaging charitable work, and proving benefits to a member or their family following the death or disability of a member).
He participated in various community events, such as the 1896 Angelica Town festival and an 1897 town baseball game to raise money for the local fire department. In 1898, he was part of the county committee of the State Charities Aid Association.
Julius Averill was involved with the Prohibition Party in Allegany County. In 1889, he served as one of the members of the executive committee for the Allegany County Prohibition Party. In 1897, the Allegany County Prohibition Party nominated Averill as its candidate for state assembly. He was part of the Prohibition Party ticket for countywide offices; which included George H. Eldridge of Cuba for County Sheriff, George Rosa of Wellsville for County Clerk, Myron Morgan of Rushford for County Superintendent of the Poor, and Dr. Burdick of Genesee and Dr. Remington of Granger for County Coroners.
Averill ran against Republican candidate Almanzo W. Litchard and Democratic and Populist Party candidate Harry W. Breckinridge. Averill received 486 votes (5.86%) and came in third place to Litchard and Breckinridge. Page 7 Averill had his strongest performances in the towns of Genesee (16.92%), Rushford (13.83%), Wirt (13.02%), West Almond (11.97%), Cuba (11.06%), and Bolivar (9.41%). In Genesee, he only came 7 votes behind the Democratic candidate. The distribution of his vote results was similar to the other Prohibition Party candidates for countywide office that year. Out of the six candidates for countywide office, Averill received the lowest number of votes, while Eldridge received the largest number of votes (606 votes and 7.30% of the total vote).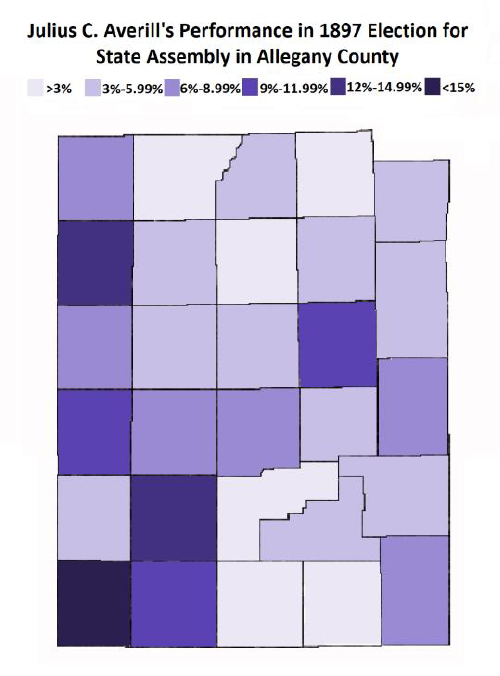 Though when it comes to state assembly races, Julius Averill was one of the Prohibition Party's strongest performing candidates that year. Out of the Prohibition Party's 1897 Assembly candidates, Averill was the second- strongest-performing candidate in terms of total number of votes and was the 6th strongest performing candidate in terms of percentage of the vote. Overall, Averill had a fairly strong performance as a Prohibition Party candidate for state assembly at the time.
In the later part of his life, Julius Averill got involved with the insurance business. By 1895, Averill was an insurance agent with a regional branch of the Provident Loan and Trust Company. He would later work as an agent for Equitable Insurance Co. in 1898 and Mutual Life Insurance Co. in 1900. As part of his work with Equitable Insurance Co. and Mutual Life Insurance Co., Averill would spend parts of the late 1890's and early 1900's working in Baltimore, while still maintaining his primary residence in Angelica.
In 1901, while in Baltimore, Averill contracted malaria and spent some time recovering in a Baltimore hospital.
Julius C. Averill spent the last years of his life in Angelica. In 1902, he sold his house on East Main Street and purchase a homestead in the northern hills of the town.
Julius C. Averill died of pneumonia on 27 February 1904. He left behind a $2,700 estate to his wife. His funeral was held at their home and the ceremony was performed by the town's Baptist minister. Averill was buried in the Until the Day Dawn Cemetery in Angelica.
Sources:
"Julius C Averill (1857-1904)", Find a Grave, Accessed, August 19, 2022, https://www.findagrave.com/memorial/66454288/julius-c-averill.
"Prohibition County Convention", Rushford Spectator, (Rushford, New York), October 14, 1897, Accessed, August 9, 2022, https://newspaperarchive.com/rushford-spectator-oct-14-1897-p-1/ ;
"Julius C Averill (1857-1904)." Find a Grave; John Stearns Minard, Allegany County and its People: A Centennial Memorial History of Allegany County, New York, Ed. Georgia Drew Merrill, (Alfred, New York: W.A. Fergusson & CO., 1896), 428-429;
"The Prohibition Convention", Friendship Weekly Register, (Friendship, New York), August 29, 1889, Accessed, September 2, 2022, https://newspaperarchive.com/friendship- weekly-register-aug-29-1889-p-1/;
"Julius C. Averill: Well Known Angelica Business Man and Former Belmont Resident Dead", Wellsville Daily Reporter, (Wellsville, New York), February 29, 1904, https://newspaperarchive.com/wellsville-daily-reporter-feb-29-1904-p-4/
"Julius C Averill (1857-1904)." Find a Grave; "Julius C Averill: 1857 – 1904", FamilySearch, Accessed, August 27, 2022, https://www.familysearch.org/tree/person/details/LKT6-R1F; "Julius C Averill: 1857 – 1904", FamilySearch; "Julius C Averill: United States Census 1880", FamilySearch, Accessed, August 27, 202,. https://www.familysearch.org/ark:/61903/1:1:MZC1- 324?from=lynx1UIV8&treeref=LKT6-R1F; Minard, Allegany County and its People, 428-429;
"Julius C. Averill: Well Known Angelica Business Man and Former Belmont Resident Dead", Wellsville Daily Reporter
"Julius C. Averill: Well Known Angelica Business Man and Former Belmont Resident Dead", Wellsville Daily Reporter;
"Yale and Averill", Friendship Register, (Friendship, New York), November 19, 1884, Accessed, September 2, 2022, https://newspaperarchive.com/friendship- register-nov-19-1884-p-3/;
"A Complete Dictionary of Dry Goods: By George S. Cole", ChestofBooks.com, Accessed, September 6, 2022, https://chestofbooks.com/reference/Dictionary-of-Dry-Goods/index.html;
"Dry Goods Defined", Elvis Swift Dry Goods, November 28, 2017, https://elvisswiftdrygoods.com/dry-goods-defined/;
"Dry Goods Definition & Meaning", Merriam-Webster, Merriam-Webster, Accessed, September 6, 2022. https://www.merriam-webster.com/dictionary/dry%20goods.
"Julius C Averill: 1857 – 1904", FamilySearch; "Yale and Averill", Friendship Register ; "Angelica, Allegany County Reporter, (Wellsville, New York), October 22, 1885, Accessed, September 6, 2022, https://newspaperarchive.com/wellsville-allegany-county-reporter-oct-22-1885-p-2/;
"Important", Allegany County Republican, (Wellsville, New York), April 10, 1885, Accessed, September 6, 2022, https://newspaperarchive.com/wellsville-allegany-county-republican-apr-10-1885-p-3/
"Round Allegany County", Bolivar Breeze, (Bolivar, New York), July 22, 1897, Accessed, August 17, 2022,
"Julius C Averill (1857-1904)." Find a Grave; "Mrs. Capitola Lilly Averill (1859-1936)", Find a Grave. Accessed, August 19, 2022. https://www.findagrave.com/memorial/66454303/capitola-averill;
"Julius C Averill: 1857 – 1904", FamilySearch; "Julius C. Averill: New York State Census 1892", FamilySearch, Accessed, August 27, 2022, https://www.familysearch.org/ark:/61903/1:1:MQSW- Z8J?from=lynx1UIV8&treeref=LKT6-R1F; Minard, Allegany County and its People, 428-429;
"Women Registered", Allegany County Republican, November 3, 1893, Accessed, September 6, 2022, https://newspaperarchive.com/wellsville-allegany-county-republican-nov-03-1893-p-3/ ;
"Julius C. Averill: Well Known Angelica Business Man and Former Belmont Resident Dead", Wellsville Daily Reporter
"Home News", Friendship Register, (Friendship, New York), April 25, 1888, Accessed, September 4, 2022, https://newspaperarchive.com/friendship-register-apr-25-1888-p-3/
"Julius C. Averill: New York State Census 1892", FamilySearch, Accessed, August 27, 2022, https://www.familysearch.org/ark:/61903/1:1:MQSW-Z8J?from=lynx1UIV8&treeref=LKT6-R1F;
"Home News", Friendship Register; "Teachers", Rushford Spectator, (Rushford, New York), September 26, 1895, Accessed, September 4, 2022, https://newspaperarchive.com/rushford- spectator-sep-26-1895-p-3/ ;
"Averill and Bronson: Dry Goods", Allegany County Republican, (Wellsville, New York), February 26, 1897, Accessed, September 4, 2022, https://newspaperarchive.com/wellsville-allegany-county-republican-feb-26-1897-p-2/;
"Down at Averill's", Allegany County Reporter, (Wellsville, New York), October 19, 1888, Accessed, September 6, 2022, https://newspaperarchive.com/wellsville- allegany-county-reporter-oct-19-1888-p-3/
"Teachers", Rushford Spectator; "Averill and Bronson: Dry Goods", Allegany County Republican; "Down at Averill's", Allegany County Reporter; "J. C. Averill", Allegany County Reporter, (Wellsville, New York), August 3, 1888, Accessed, September 6, 2022, https://newspaperarchive.com/wellsville-allegany-county-reporter-aug-03-1888-p-3/;
"J. C. Averill: Is Still Leading the Van", Allegany County Republican, (Wellsville, New York), August 30, 1895, Accessed, September 6, 2022, https://newspaperarchive.com/wellsville-allegany-county- republican-aug-30-1895-p-3/
"Near-by News", Friendship Weekly Register, (Friendship, New York), January 10, 1889, Accessed, September 4, 2022, https://newspaperarchive.com/friendship-weekly-register-jan-10-1889-p-4/;
"Fire: The Averill Store Burned", Allegany County Republican, (Wellsville, New York), March 10, 1893, Accessed, September 6, 2022, https://newspaperarchive.com/wellsville-allegany-county-republican- mar-10-1893-p-3/;
"Of Interest to All", Allegany County Democrat, (Wellsville, New York), March 15, 1893, Accessed, September 6, 2022, https://newspaperarchive.com/wellsville-allegany-county-democrat-mar-15-1893-p-3/
"News Hereabouts", Rushford Spectator, (Rushford, New York), February 20, 1896, Accessed, September 4, 2022, https://newspaperarchive.com/rushford-spectator-feb-20-1896-p-1/;
"Averill and Bronson: Dry Goods", Allegany County Republican; "Our Angelica Advertisers", Allegany County Republican, (Wellsville, New York), December 24, 1897, Accessed, September 6, 2022, https://newspaperarchive.com/wellsville-allegany-county-republican-dec-24-1897-p-2/
"Allegany County". Buffalo Weekly Express. (Buffalo, New York). March 20, 1890. Accessed, August 11, 1890. https://www.newspapers.com/image/494647815/?terms=j.%20c.%20averill&match=1;
"Allegany County: Opening of a Term of the Supreme Court in Belmont – Meetings of Some Baptist Bodies", Buffalo Morning Express and Illustrated Buffalo Express, (Buffalo, New York), June 13, 1892, Accessed, August 11, 2022, https://www.newspapers.com/image/345227494/?terms=j.%20c.%20averill&match=1 ;
"The Baptists: An Interesting Session", Rushford Spectator, (Rushford, New York), June 19, 1889, Accessed, September 4, 2022, https://newspaperarchive.com/rushford-spectator-jun-19-1889-p-4/ ;
"Minutes of the 36th Annual Meeting of the Allegany Baptist Association, Held at Cuba, June 27-28", Allegany County Republican, (Wellsville, New York), July 28, 1893, Accessed, September 6, 2022, https://newspaperarchive.com/wellsville-allegany-county-republican-jul-28-1893-p-2/
"Allegany: Farmers Institute at Angelica This Week – Installation of Officers", Democrat and Chronicle, (Rochester, New York), January 6, 1890, Accessed, February 25, 2022, https://www.newspapers.com/image/135127044/?terms=j.%20h.%20rook&match=1;
Albert C. Stevens, The Cyclopedia of Fraternities, a Compilation of Existing Authentic Information and the Results of Original Investigation as to the Origin, Derivation, Founders, Development, Aims, Emblems, Character, and Personnel of More than 600 Secret Societies in the United States, (New York: E.B. Treat and Company, 1907), 408- 409;
"Royal Templars of Temperance: Promoting Temperance", Alcohol Problems and Solutions, October 6, 2019, https://www.alcoholproblemsandsolutions.org/royal-templars-of-temperance-promoting-temperance/
"Men Will Do Battle: Terrible Carnage is Expected at Angelica, Next Monday", Buffalo Enquirer, (Buffalo, New York), August 27, 1897, Accessed, February 25, 2022, https://www.newspapers.com/image/325585792/?terms=j.%20h.%20rook&match=1
New York State Department of Social Services, Annual Report of the New York State Board of Charities for the Year 1898. Vol. 2. (Albany: Wynkoop Hallenbeck Crawford Co., 1899)., 185
"The Prohibition Convention", Friendship Weekly Register
"Prohibition County Convention", Rushford Spectator; "Prohibition Nomination: A Full County Ticket Named by the Convention Thursday", Allegany County Reporter, (Wellsville, New York), October 12, 1897, Accessed, August 9, 2022, https://newspaperarchive.com/wellsville- allegany-county-reporter-oct-12-1897-p-2/;
"Election: Democrats Carry Almost Everything but the County", Rushford Spectator, (Rushford, New York), November 4, 1897, Accessed, August 9, 2022, https://newspaperarchive.com/rushford-spectator-nov-04-1897-p-3/
"Election: Democrats Carry Almost Everything but the County", Rushford Spectator; Edgar R. Murlin, The New York Red Book 1898, (Albany: James B. Lyon, 1898), https://babel.hathitrust.org/cgi/pt?id=umn.31951d02634287l&view=1up&seq=953&skin=2021, 787;
"Populists Endorsed: Democratic Nominees in Allegany County – Prohibitionists Nominate J. Averill", Buffalo Times, (Buffalo, New York), October 9, 1897, Accessed, August 11, 2022, https://www.newspapers.com/image/442430527/?terms=julius%20averill&match=1 ;
"Election Expenses", Rushford Spectator, (Rushford, New York), November 18, 1897, Accessed, September 4, 2022, https://newspaperarchive.com/rushford- spectator-nov-18-1897-p-4/
"Election: Democrats Carry Almost Everything but the County", Rushford Spectator
Murlin, The New York Red Book 1898, 787-793
"Dinner to Mr. Ashbrook", Buffalo Evening News, (Buffalo, New York), December 7, 1895, Accessed, August 11, 2022, https://www.newspapers.com/image/328821067/?terms=j.%20c.%20averill&match=1;
"Insurance Agent's Luncheon", Buffalo Evening News, (Buffalo, New York), August 4, 1896, Accessed, August 17, 2022, https://www.newspapers.com/image/legacy/842529844/?terms=j.%20c.%20averill&match=1 ;
"Julius C Averill: 1857 – 1904", FamilySearch; "Julius C. Averill: Well Known Angelica Business Man and Former Belmont Resident Dead", Wellsville Daily Reporter
"County and Vicinity News", Rushford Spectator. (Rushford, New York). September 20, 1900. Accessed, September 4, 2022. https://newspaperarchive.com/rushford-spectator-sep-20-1900-p-3/;
"News Hereabouts", Rushford Spectator, (Rushford, New York), March 17, 1898, Accessed, September 4, 2022, https://newspaperarchive.com/rushford-spectator-mar-17-1898-p-1/
"Julius C Averill: United States Census 1900", FamilySearch, Accessed, August 27, 2022, https://www.familysearch.org/ark:/61903/1:1:MS67- 7FG?from=lynx1UIV8&treeref=LKT6-R1F ;
"J. C. Averill of Angelica is Sick in A Baltimore Hospital with Malarial Fever", Rushford Spectator, (Rushford, New York), January 3, 1901, Accessed, September 4, 2022, https://newspaperarchive.com/rushford-spectator-jan-03-1901-p-4/ ;
"News Hereabouts", Rushford Spectator, March 17, 1898
"Farms for Sale", Buffalo Review, (Buffalo, New York), September 13, 1902, Accessed, August 11, 2022, https://www.newspapers.com/image/354308744/?terms=j.%20c.%20averill&match=1;
"J. C. Averill Has Sold His House", Rushford Spectator, (Rushford, New York), November 6, 1902, https://newspaperarchive.com/rushford-spectator-nov-06-1902-p-4/
"Surrogate's Court", Bolivar Breeze, (Bolivar, New York), April 14, 1904, Accessed, August 19, 2022, https://newspaperarchive.com/bolivar- breeze-apr-14-1904-p-6/;
"Julius C Averill (1857-1904)." Find a Grave; "Julius C Averill: 1857 – 1904", FamilySearch; "Belmont", Wellsville Daily Reporter, (Wellsville, New York), March 4, 1904, Accessed, September 6, 2022, https://newspaperarchive.com/wellsville-daily-reporter-mar-04- 1904-p-7/;
"Julius C. Averill: Well Known Angelica Business Man and Former Belmont Resident Dead", Wellsville Daily Reporter
"Julius C Averill (1857-1904)." Find a Grave; "Julius C. Averill: Well Known Angelica Business Man and Former Belmont Resident Dead",
Wellsville Daily Reporter
"Prohibition County Convention", Rushford Spectator; "Julius C Averill: 1857 – 1904", FamilySearch; Minard, Allegany County and its People, 428-429; "The Prohibition Convention", Friendship Weekly Register; "Julius C. Averill: Well Known Angelica Business Man and Former Belmont Resident Dead", Wellsville Daily Reporter
-- Contributed by Jonathan Makeley
[BACK]