Joseph Worcester Bruce, the Prohibition" war horse" of New York State, was born at Lenox, Madison county, N. Y., July 3, 1821, of Scottish ancestry for many generations back. He was brought up on a farm and has been a farmer all his life.
Formerly a Republican, in the early seventies Mr. Bruce came over to the Prohibition Party, and has been one of its staunchest adherents in New York State ever since. He has attended every Prohibition State convention except one held in New York since his identification with the party and has been a delegate to three national conventions, in 1876, 1880, and 1888. For two years he was a member of the Prohibition National Committee. He has been nominated for State treasurer by the New York Prohibitionists, and, in 1891, was their candidate for governor.
Mr. Bruce is a member of the Congregational Church, and resides on his farm at Canastota, N. Y.
-- An Album of Representative Prohibitionists (1895)
---
Joseph W. Bruce was a farmer, businessman, and Prohibition Party politician. He was the Prohibition Party's candidate for governor of New York in 1891.
Joseph W. Bruce was born on July 3rd , 1821. He was the sone of Joseph Bruce Sr. and Maria Bruce. He seems to have spent most of his life in the town of Lenox and the village of Canastota (which is in Lenox) in Madison County, New York. Sometime before 1858, he married Caroline Starr Bruce. In 1858, his daughter Nancy was born.
Joseph Bruce mainly made a living as a farmer in Lenox. In 1888, Joseph and E. N. Bruce opened Bruce Theater in Canastota. Bruce Theater showed films until it was damaged by a fire in 1909, and went out of business.
Bruce was involved with the Prohibition Party at least as early as the early 1880's. In 1882, Bruce ran as the Prohibition Party's candidate for State Assembly in Madison County's 1st Assembly District. He received 641 votes and 7.21% of the total vote. In 1884, he ran for Congress in New York's 26th district, received 1,534 votes and 3.48% of the total vote. In 1888, he was selected as one of the electors for the party's presidential ticket in New York. In 1889, Bruce was the Prohibition Party candidate for State Treasurer. He received 26,527votes and 2.61% of the total vote.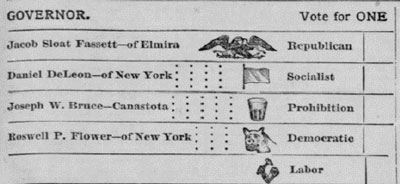 In 1891, the Prohibition Party nominated Bruce as its candidate for Governor of New York. He campaigned on a platform which included support for state and national prohibition laws, support for adding a prohibition amendment to the U.S. Constitution, support for women's suffrage, support for a national currency backed by gold and silver, and strict enforcement of the civil service law. Bruce held campaign events in communities throughout the state. Bruce received 30,353 votes, 2.61% of the total vote. This was the largest percentage that the Prohibition Party has so far received in a New York governor's election.
Joseph W. Bruce died on September 24th, 1907, and was buried in Lenox Memorial Cemetery.
Sources:
Appleton's Annual Cyclopedia And Register of Important Events of the Year 1889. New York: D. Appleton and Company, 1890.
"Bruce Opera House Historical Marker." Historical Marker, November 7, 2017. https://www.hmdb.org/m.asp?m=109611.
"Canastota Area History." Canastota Public Library, July 14, 2017. https://www.canastotalibrary.org/resources/canastotaareahistory/.
"Genesee County". Buffalo Courier. (Buffalo, New York). October 17, 1891. Accessed, January 28, 2020. https://www.newspapers.com/image/354434542/?terms=joseph%2Bw%2Bbruce%2Bprohibition
"Joseph W. Bruce." Our Campaigns. Accessed January 29, 2020. https://www.ourcampaigns.com/CandidateDetail.html?CandidateID=64378.
"Joseph W. Bruce (1821-1907) - Find A Grave..." Find A Grave. Accessed January 29, 2020. https://www.findagrave.com/memorial/48931312/joseph-w_-bruce.
"Joseph W. Bruce: New York State Census, 1855." FamilySearch. Accessed January 29, 2020. https://www.familysearch.org/ark:/61903/1:1:K6SV-989
"Joseph W. Bruce: New York State Census, 1865." FamilySearch. Accessed January 29, 2020. https://www.familysearch.org/ark:/61903/1:1:QVNV-7LTB
"Joseph W. Bruce: New York State Census, 1875." FamilySearch. Accessed January 29, 2020. https://www.familysearch.org/ark:/61903/1:1:VNJ2-KBC
"Joseph W. Bruce: United States Census, 1850." FamilySearch. Accessed January 29, 2020. https://www.familysearch.org/ark:/61903/1:1:MCBM-4L3
"Joseph W. Bruce: United States Census, 1860." FamilySearch. Accessed January 29, 2020. https://www.familysearch.org/ark:/61903/1:1:MCWR-1Z1
"Joseph W. Bruce: United States Census, 1870." FamilySearch. Accessed January 29, 2020. https://www.familysearch.org/ark:/61903/1:1:M8J4-TTM.
"Joseph W. Bruce: United States Census, 1880." FamilySearch. Accessed January 29, 2020. https://www.familysearch.org/ark:/61903/1:1:MZDD-63S
Kestenbaum, Lawrence. "Index to Politicians: Bruce." The Political Graveyard. Accessed January 29, 2020. http://politicalgraveyard.com/bio/bruce.html.
Murlin, Edgar L. The Red Book: An Illustrated Manual of the State Containing the Portraits and Bibliographies of the Governors and Members of the Legislature; Also the Enumeration of the State for, 1892, Wit h the Election and Population Statistics, and List of Postmasters. Albany: James B. Lyon, 1893.
"Niagara County". Buffalo Weekly Press (Buffalo, New York). October 22,1891. Accessed, January 28, 2020. https://www.newspapers.com/image/494881449/?terms=joseph%2Bw%2Bbruce%2Bprohibition
"Official Ballot". Democrat and Chronicle (Rochester, New York). October 31, 1891. Accessed, January 29, 2020. https://www.newspapers.com/image/135462462/?terms=joseph%2Bw%2Bbruce%2Bprohibition
"Opposed to Fassett". Buffalo Courier. (Buffalo, New York). October 20, 1891. Accessed, January 29, 2020. https://www.newspapers.com/image/354434667/?terms=joseph%2Bw%2Bbruce%2Bprohibition
"Other Past Candidates: New York". Partisan Prohibition Historical Society. Prohibitionists.org. Accessed October 29th, 2019. http://www.prohibitionists.org/Candidates/candidates.html
"Political Points'. Buffalo Morning Express and Illustrated Buffalo Express. (Buffalo, New York). October 16, 1891. Accessed, January 29, 2020. https://www.newspapers.com/image/344140382/?terms=joseph%2Bw%2Bbruce%2Bprohibition
"Prohibition Mass Meeting". The Buffalo Commercial (Buffalo, New York). October 19, 1891. Accessed, January 28, 2020. https://www.newspapers.com/image/269475618/?terms=joseph%2Bw%2Bbruce%2Bprohibition
The Argus Almanac: A Political and Financial Manual. Albany: The Argus Company, Printers and Publishers, 1883.
"The Candidates". The Voice. (New York City, New York). July 5, 1888. Accessed, January 29, 2020. https://www.newspapers.com/image/557388732/?terms=joseph%2Bw%2Bbruce%2Bprohibition
"To the Voters of Erie County". The Buffalo Times. (Buffalo, New York). October 28, 1891. Accessed, January 29, 2020. https://www.newspapers.com/image/442479199/?terms=joseph%2Bw%2Bbruce%2Bprohibition
-- Contributed by Jonathan Makeley, in the New York Prohibitionist, v. 3 # 10
[BACK]