John A. M. Kline was born on February 1, 1849, in Berne, Albany County, New York. His parents were German Immigrants, who had arrived in the U.S. about a year prior to his birth. He was the youngest of six children.
His father died when he was eleven. This placed the family in poverty, limited Kline's ability to attain schooling, and caused him to start working at an early age. He spent four years working at a farm for 3 dollars a month. He then spent two years working at a hotel in Schuyler County. At 17, he became a clerk at a dry goods store in Middleburg, New York. At 19, he started working at a general store in Rensselaerville, New York. He was the store's top salesman for two years.
Kline moved to Western New York in the early 1870s. Over the next few decades, He lived in various towns in Yates and Steuben counties.
Turning his attention towards pursuing an education, in September 1871, he started studying at Starkey Seminary in Yates County. He graduated two years later. He then spent six years studying at Oberlin College and, occasionally, teaching, until graduating in 1879.
Kline married Frances A. Bassett of Barrington, New York on December 24th or 25th, 1879. They had two children: Allen Bassett Kline, who was born in 1883 and apparently named after Frances' father Allen Bassett, and J. (John) Carlton Kline in 1888.
In September 1879, Kline founded the Dundee Preparatory School, in Dundee New York. He taught at the school, and served as the school's principal and administrator, until 1891. In 1891. Dundee Preparatory School was replaced by Dundee Highschool in 1891.
From 1891- 1895, Kline worked at the State Mutual Life Insurance Company.
Kline became significantly involved in reformist activities while living in Yates County, particularly in temperance activism. He began speaking at various temperance and prohibitionist meetings throughout the region. A favorite topic of his was speaking about the American Brewers Association, it's negative effects on society, and it' corrupting influence on the nation's politics.
Kline soon became involved with the Prohibition Party. In 1888, he ran as the Prohibition Party candidate for state assembly in Yates County's 1st District, against Republican candidate William A. Carson and Democratic candidate Henry M. Huntington. The election was won by Carson. In 1890, he was the Prohibition Party candidate for county school commissioner in Yates County. In the campaign, he reportedly spent $12.00 on printing and postage.
In the same year, he was part of a group of temperance supporters who sought to purchase the Dundee Record and turn it into a prohibitionist newspaper. This may have become the basis for the Dundee Home Advocate, which he played a key role in creating. By 1895, the Dundee Home Advocate had merged with an Elmira based prohibitionist newspaper named The Facts. In 1897, Kline became president of the group producing The Facts.
Kline was one of the representatives from Yates County at the New York Prohibition Party state convention in 1891. In 1893, he delivered at address at the Yates County Prohibition Party convention. In 1895, Kline was nominated to run for state senate.
Kline became a professor at Keuka College/ Keuka Institute in 1895; he was also appointed Principal of Keuka College/ Institute. The news of his appointment was met with praise from The Facts, which described Kline as one of the "best known educators and reformers in the state", a man who had worked his way from being a poor boy "through the snows of difficulty to his present and enviable standing", and who "possesses the peculiar power to impress himself upon the young with whom he comes in contact".
Kline managed practical aspects of the college and its staff, while the college's founder, Rev. George Harvey Bell, administered the college as its president. As part of his work, Kline attended meetings with other principals in local area.
Mrs. Kline taught English and Art at Keuka and was at one-point head of its Art department.
John Kline was selected as the Party's nominee for governor of New York on June 30, 1898, at its state convention in Syracuse. Throughout this campaign, he spoke at various temperance and prohibitionist meetings across the state. Kline emphasized the importance of opposing the alcohol industry and its corrupting influence on politics. He called on voters in New York to stand up against its influence. For instance, an article in the Brooklyn Daily Eagle on one of events reported, "The speaker told of the corruption he thought existed in both the Democratic and Republican Parties. It is time, he said, for another party whose purpose was pure to take hold of affairs. When the whiskey trade can step in and make and unmake presidents it was time for the people to interfere."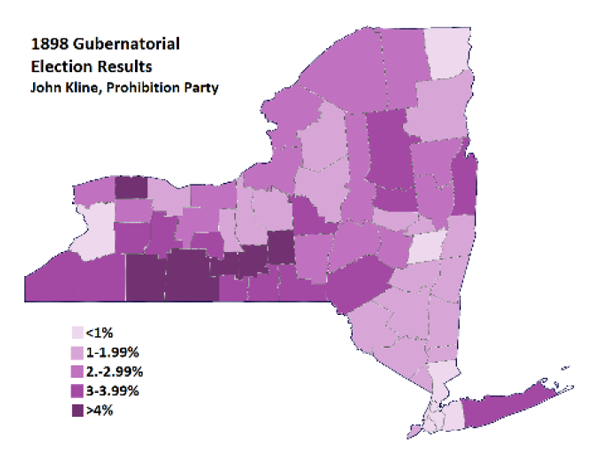 Kline received 18,383 votes (1.36% of the total statewide vote), and came in 4th place. His strongest results tended to be in counties in Western and Central New York, particularly among the southern tier counties. He also had above average results in various counties in the Adirondacks and Northern New York. His percentage of votes tended to be lower in New York City, as well as several of the more urban counties in the state.
Kline continued to be a prominent figure in the New York Prohibition Party after 1898, making speeches at local Prohibition Party events. He served on the state executive committee in 1900.
Near the end of 1900, Kline and his family moved from Jerusalem, New York to Euclid, Ohio, where John became employed by the A.L. Bassett & CO., a Cleveland-based company that sold hats. In 1906, he reportedly purchased a share of the business. (Ed. note -- this may have been his father-in-law's firm.)
Kline was active in the Ohio Prohibition Party. In 1904, he was the Prohibition Party candidate for representative in Ohio's 20th congressional district. He received 587 votes and 1.19% of the total vote.
Alumni of the old Dundee Preparatory School held their first annual reunion on September 12th, 1914. . Kline attended as the guest of honor and was one of the speakers. The alumni continued to hold annual reunions for at least the next several years.
Kline became seriously ill with diabetes in 1912. His nephew, Dr. Scherer of Penn Yan, New York, traveled to Cleveland to assist with his treatment.
John Kline died on November 17th, 1917. He is buried in Knollwood cemetery, in Mayfield Heights, Ohio.
"112th New York State Legislature." Wikipedia. Wikimedia Foundation, October 30, 2019. https://en.wikipedia.org/wiki/112th_New_York_State_Legislature.
"Aiming at Albany: Prohibitionists Hold a Meeting at the Pouch". Times Union. (Brooklyn, New York). October 29, 1898. Accessed, February 24, 2020. https://www.newspapers.com/image/555771879/?terms=john%2Bkline%2Bprohibition
Aldrich, Lewis Cass. History of Yates County, N. Y. Syracuse: D. Mason & Co. Publishers, 1892.
"Alumni Banquet". Dundee Observer. (Dundee, New York). July 3, 1912. Accessed, February 24, 2020.
"Alumni Election". Star-Gazette. (Elmira, New York). June 28, 1912. Accessed, February 24, 2020. https://www.newspapers.com/image/275836255/?terms=john%2Bkline%2Bprofessor
"Are You Going?". Yates County Chronicle. (Penn Yan, New York). November 04, 1896. Accessed, February 24, 2020.
"Candidates Nominated by the Prohibition Party". Buffalo Morning Express and Illustrated Buffalo Express. (Buffalo, New York). November 1, 1913. Accessed, February 23, 2020. https://www.newspapers.com/image/345330392/?terms=john%2Bkline
"Changing Quarters: The Facts Will be Printed in the Old Advisor Building". Elmira Star-Gazette. (Elmira, New York). May 29, 1897. Accessed February 23, 2020. https://www.newspapers.com/image/275342309/?terms=john%2Bkline%2Bprofessor%2Bkeuka
"Christian Endeavor: Programme for the County Convention to be Held at Branchport". Democrat and Chronicle. (Rochester, New York). May 18, 1897. Accessed, February 24, 2020. https://www.newspapers.com/image/135278237/?terms=john%2Bkline%2Bprofessor%2Bkeuka Dewey, Rachel E.
"History and Mission." Keuka College, May 7, 2016. https://www.keuka.edu/about/history-and-mission.
"Dundee". Elmira Star-Gazette. (Elmira, New York). August 7, 1918. Accessed February 23, 2020. https://www.newspapers.com/image/276127435/
"Dundee Preparatory School is to Have Reunion". Star-Gazette. (Elmira, New York). August 8, 1917. Accessed, February 24, 2020. https://www.newspapers.com/image/276100960/?terms=john%2Bkline%2Bprofessor
"Election Expenses". Penn Yan Express. (Penn Yan, New York) November 19, 1890. Accessed, February 24, 2020.
"Friday, December 27, 1907". The Rushville Chronicle. (Rushville, New York). December 27, 1907. Accessed, February 24, 2020.
"In the Social World". The Standard Union. (Brooklyn, New York). October 28, 1898. Accessed, February 24, 2020. https://www.newspapers.com/image/542619742/?terms=john%2Bkline%2Bprohibition
"John Kline (1849-1917) - Find A Grave Memorial." Find A Grave. Accessed February 10, 2020. https://www.findagrave.com/memorial/178709065/john-kline.
"John Kline Mentioned in the Record of Allen Bassett Kline and Mary Grace Spence ." FamilySearch. Accessed February 23, 2020. https://www.familysearch.org/ark:/61903/1:1:XZPD-T1S.
"John Kline Mentioned in the Record of John Carlton Kline ." FamilySearch. Accessed February 23, 2020. https://www.familysearch.org/ark:/61903/1:1:K3CR-45C.
"John Kline New York State Census, 1892 ." FamilySearch. Accessed February 25, 2020. https://www.familysearch.org/ark:/61903/1:1:MQ3M-N9Z.
"John Kline United States Census, 1910." FamilySearch. Accessed February 23, 2020. https://www.familysearch.org/ark:/61903/1:1:MLZ5-ZMW. Kfrisch.
"It's Official: Amy Storey Named Keuka College's 20th President." Keuka College, December 11, 2019. https://www.keuka.edu/stories/it's-official-amy-storey-named-keuka-colleges-20th-president.
"Local Brevities". Dundee Observer. (Dundee, New York). April 24, 1912. Accessed, February 24, 2020.
"Kline, John." Our Campaigns. Accessed February 25, 2020. https://www.ourcampaigns.com/CandidateDetail.html?CandidateID=50202.
Murlin, Edgar L. The New York Red Book. Albany: James B. Lyon, 1899. https://babel.hathitrust.org/cgi/pt?id=umn.31951d02634288j&view=1up&seq=9
"New York Prohibitionists". The New York Times. (New York City, New York). June 30, 1898. Accessed, February 24, 2020. https://timesmachine.nytimes.com/timesmachine/1898/07/01/102116625.pdf
"Newspaper Change". Dundee Observer. (Dundee, New York). November 26, 1890. Accessed, February 24, 2020.
"Old Dundee School Pupils Plan Reunion". Star-Gazette. (Elmira, New York). August 24, 1914. Accessed, February 24, 2020. https://www.newspapers.com/image/275973471/?terms=john%2Bkline%2Bprofessor
"Other Past Candidates: New York". Partisan Prohibition Historical Society. Prohibitionists.org. Accessed October 29th, 2019. http://www.prohibitionists.org/Candidates/candidates.html
"Personal Paragraphs". Dundee Record. (Dundee, New York). December 02, 1887. Accessed, February 24, 2020.
"Professor John Kline: He Has Been Appointed Principal of Keuka College". Star-Gazette. (Elmira, New York). June 29, 1895. Accessed, February 24, 2020. https://www.newspapers.com/image/275455301/?terms=john%2Bkline%2Bprofessor%2Bkeuka
"Professor John Kline Robbed". Yates County Chronicle. (Penn Yan, New York). December 12, 1900. Accessed, February 24, 2020.
"Prohibition Mass Meeting: Prohibition Candidate for Governor Spoke at City Hall". Democrat and Chronicle. (Rochester, New York). November 8, 1898. Accessed, February 24, 2020. https://www.newspapers.com/image/135236767/?terms=john%2Bkline%2Bprohibition
"Prohibition Senatorial Nomination". Penn Yan Express. (Penn Yan, New York). October 09, 1895. Accessed, February 24, 2020.
"Prohibitionists at Canandaigua". Democrat and Chronicle. (Rochester, New York). July 7, 1900. Accessed, February 24, 2020. https://www.newspapers.com/image/135243872/?terms=john%2Bkline%2Bprofessor%2Bkeuka
"Public Service Honor Role of Local Businessman". Chronicle Express. (Penn Yan, New York). April 16, 1953. Accessed, February 24, 2020.
Register of the Members Both Graduate and Non-graduate of Phi Delta Literary Society. Ed. Harry N. Frost. Oberlin, Ohio: The News Printing Company, 1901.
"Roosevelt's Majority". Times Union. (Brooklyn, New York). December 29th, 1898. Accessed, February 24, 2020. https://www.newspapers.com/image/555772617/?terms=john%2Bkline%2Bprohibition
"School Commissioners Will Meet at Cook Academy, Montour Falls, Saturday". Star-Gazette. (Elmira, New York). December 15, 1896. Accessed, February 24, 2020. https://www.newspapers.com/image/275412473/?terms=john%2Bkline%2Bprofessor%2Bkeuka
"Schuyler: Meeting of School Principals to be Held at Montour Falls". Democrat and Chronicle. (Rochester, New York). December 14, 1896. Accessed, February 24, 2020. https://www.newspapers.com/image/135260846/?terms=john%2Bkline%2Bprofessor%2Bkeuka
"State Ticket Named: Prohibition Convention Adjourns. Edwin Pusey of Buffalo an Elector at Large". The Buffalo Review. (Buffalo, New York). July 26, 1900. Accessed, February 24, 2020. https://www.newspapers.com/image/354302533/?terms=john%2Bkline%2Bdundee
"Steuben Man Honored". Buffalo Enquirer. (Buffalo, New York). July 20, 1898. Accessed, February 24, 2020. https://www.newspapers.com/image/325654431/?terms=john%2Bkline%2Bprohibition
"Talked to Prohibitionists: Professor Kline, Candidate For Governor, Appears Before Audience in Pouch Mansion". Brooklyn Daily Eagle. (Brooklyn, New York). October 29, 1898. Accessed, February 24, 2020. https://www.newspapers.com/image/50340628/?terms=john%2Bkline%2Bprohibition
The Executive Documents of the House of Representatives For the Second Session of the Forty-Ninth Congress, 1886-1887. Washington: Government Printing Office, 1887.
"The Keuka Assembly: A Speech on the Tariff by Ex-Governor St. John Yesterday". Democrat and Chronicle. (Rochester, New York). August 8, 1891. Accessed, February 24, 2020. https://www.newspapers.com/image/135192534/?terms=john%2Bkline%2Bdundee
United States. Bureau of Education. Report of the Commissioner of Education For the Year 1883-1884. Washington: Government Printing Office, 1885.
"United States Census, New York, Yates, ED 136 Jerusalem Township." FamilySearch. Accessed February 25, 2020. .
"Vicinity Events" Star-Gazette. (Elmira, New York). June 11, 1906. Accessed, February 24, 2020. https://www.newspapers.com/image/275934704/?terms=john%2Bkline%2Bprofessor
"Wednesday, February 7, 1900". Penn Yan Express. (Penn Yan, New York). February 7, 1900. Accessed, February 24, 2020.
"Wednesday, January 17, 1900". Penn Yan Express. (Penn Yan, New York). July 17, 1900. Accessed, February 24, 2020.
"Wednesday, July 3rd, 1895". Penn Yan Express. (Penn Yan, New York). July 3, 1895. Accessed, February 24, 2020.
"Wednesday, November 23rd, 1898". Penn Yan Express. (Penn Yan, New York). November 23, 1898. Accessed, February 24, 2020.
"Wednesday October 24, 1894". Yates County chronicle. (Penn Yan, New York). October 24, 1894. Accessed, February 24, 2020.
"Western New York News: Yates". Democrat and Chronicle. (Rochester, New York). August 23, 1890. Accessed, February 24, 2020. https://www.newspapers.com/image/135130021/?terms=john%2Bkline%2Bdundee
"Yates". Democrat and Chronicle. (Rochester, New York). February 11, 1897. Accessed, February 24, 2020. https://www.newspapers.com/image/135268381/?terms=john%2Bkline%2Bprofessor%2Bkeuka
"Yates". Democrat and Chronicle. (Rochester, New York). June 28, 1887. Accessed, February 24, 2020. https://www.newspapers.com/image/135099612/?terms=john%2Bkline%2Bdundee
"Yates". Democrat and Chronicle. (Rochester, New York). November 17, 1897. Accessed, February 24, 2020. https://www.newspapers.com/image/135280116/?terms=john%2Bkline%2Bprofessor%2Bkeuka
"Yates: A Local Organization for the Protection of Fish and Game". Democrat and Chronicle. (Rochester, New York). May 1, 1893. Accessed, February 24, 2020. https://www.newspapers.com/image/135207699/?terms=john%2Bkline%2Bdundee
"Yates: Delegates Elected to County Convention- Work of Burglars". Democrat and Chronicle. (Rochester, New York). August 31, 1891. Accessed, February 24, 2020. https://www.newspapers.com/image/135192944/?terms=john%2Bkline%2Bdundee
"Yates, Good Pluralities for State, Congressional, Senatorial and County Tickets". Democrat and Chronicle. (Rochester, New York). November 9, 1898. Accessed, February 24, 2020. https://www.newspapers.com/image/135236796/?terms=john%2Bkline%2Bprohibition
"Yates: Yesterday's Proceedings of the Keuka Lake Assembly- Notes". Democrat and Chronicle. (Rochester, New York). August 16, 1893. Accessed, February 24, 2020. https://www.newspapers.com/image/135209040/?terms=john%2Bkline%2Bdundee
-- Contributed by Jonathan Makeley
[BACK]