George L(iddon) Pennock was a florist in Lansdowne, Pennsylvania. He was born in 1864 and died on 30 December 1937, of heart failure.
He ran for auditor in 1924 (1.59%) and for governor in 1926 (1.30%).
His wife, Mabel, ran for state senator in 1928, for lieutenant governor in 1930, and for secretary of internal affairs in 1934.
Pennock's father, also a florist, was the first to sell cut flowers in Philadelphia.
George Pennock was interested in ornithology and botany, in addition to being an ardent prohibitionists. He was President of the Delaware County Institute of Science.
It is because of Pennock's generosity that the Prohibition Party is still active today. In his will, he provided a substantial sum of money, the income from which is divided equally between the Prohibition National Committee and the Pennsylvania Prohibition Committee (and to the now-defunct Delaware County Prohibition Committee). Today (2021) the estate is in a trust administered by PNC Bank (in Pittsburgh), and the income amounts to about $4000/year for each.
—Data from the website "Our Campaigns," located by Billy Joe Parker. That author
cites the Chester County Historical Society archives, the Main Line Daily Times
of 30 December 1937, and the Pennsylvania Manual as his own sources.
---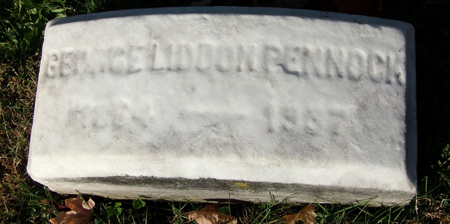 Pennock's headstone, Friends Southwestern Burial Ground, Upper Darby, Pennsylvania.
[BACK]