Hedges is 73 and has been active in community organizations and in local issues. This is his first elective office.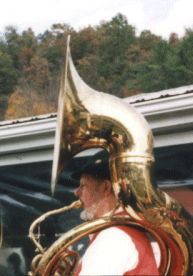 Hedges has degrees in musical performance (BA-Iowa) and in geography (MA - Maryland). He is a retired member of the United States Marine Band, Washington, DC and a former editor of The National Speleological Society Bulletin. He is listed in "Who's Who in US Writers, Editors, and Poets," and in the "International Directory of Private Presses (Letterpress)." He was Fulton County's first recycling coordinator and was twice named "Outstanding Individual Recycler" by the Pennsylvania Resources Council. He covered local government for weekly newspapers 1990-2000

Hedges' Prohibition Party activities include appointments as delegate to annual meetings of the National Temperance and Prohibition Council, being a charter member (and currently Secretary) of the Partisan Prohibition Historical Society, a re-incorporator of the National Prohibition Foundation, and public relations work. He became interested in the Prohibition Party when in high school, after reading some newspaper publicity.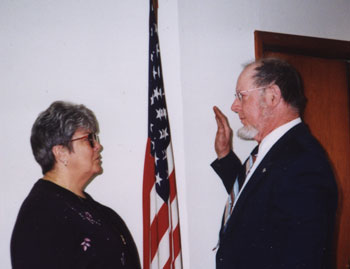 District Justice Carol Jean Johnson swears in newly elected Thompson Township Tax Assessor James Hedges, the first Prohibition Party office-holder of the 21st century.
Hedges is the first Prohibition Party candidate elected to any office since 1959. He is believed to be the first Prohibition Party candidate elected in Pennsylvania since the 1940s. In 2005, he was re-elected to an additional 4-year term.
Jim and his wife Carolyn live quietly in rural Fulton County.
"A wise and frugal government, which shall restrain men from injuring one another, which shall leave them otherwise free to regulate their own pursuits of industry and improvement, and shall not take from the mouth of labor the bread it has earned......this is the sum of good government"
Thomas Jefferson's First inaugural address, March 4, 1801