Gene Amondson, a temperance lecturer and painter from Palmer, Alaska, is the 2008 presidential candidate of the Prohibition Party. He has chosen as his running-mate Leroy Pletten, a tax-preparer and anti-tobacco activist from Sterling Heights, Michigan.
Amondson was born at Morton, Washington in 1943. He graduated from White Pass High School at Randle, Washington, then earned a Bachelor of Science Degree in Zoology from Warner-Pacific College. Amondson worked his way through school as a logger and sawyer at camps throughout the Pacific Northwest.
Gene originally intended to become a dentist. Losing interest in that while an undergraduate, he subsequently spent three years at Asbury Seminary (Methodist), supporting himself by being a heavy equipment operator. After earning his MDiv, he began doing church growth work (personal evangelism). He i s associated with the Church of God (Anderson); both of his grandfathers were Church of God preachers.
For the past 35 years, Amondson has been travelling around the country, lecturing on Prohibition. He is best known for his re-enactmens of Billy Sunday's sermon on alcohol.
Amondson became active in the Prohibition Party around 1998, at the suggestion of Maytown, Alabama minister Rev. Dr. John Killian.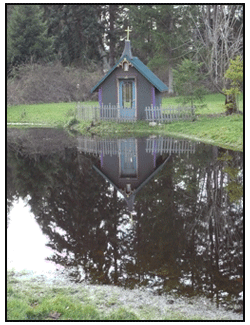 Gene Amondson is a recognized landscape painter, working in the Alaskan genre using both oils and watercolors. He has been a guest on the Oprah Winfrey Show twice, discussing his art (Gene's real reason for being on that show, he says slyly, is that he wanted to find a wife before winter). The sale of his paintings helps to support his temperance work.
Amondson was married for 23 years and has 4 grown children, three sons and a daughter. All of the children are employed in the motion picture industry.
When not painting Alaskan scenes, Gene Amondson spends much of his time on Vashon Island, Washington, where he also maintains a residence and a small, roadside chapel.
Gene Amondson passed away peacefully following a brain aneurism on 20 July 2009. His four children were by his side.